About Us
China Garden is a Chinese takeaway in London. Why don't you try our Kung Po or Set Meal C for 3 Persons?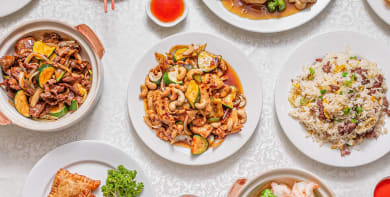 Reviews
146 reviews
CHRIS
"very good"
19/04/2021
Sister
"Excellent!!!!!"
04/04/2021
Heather
"Always very tasty food which is why I continue to order from them!"
06/03/2021
Pamela
"Great food and will order from them again"
19/02/2021
Menu
Kung Po C. King Prawns (Seafood)
£7.99
Kung Po D. Shrimp (Seafood)
£7.99
Special Kung Po
Onion, green pepper, carrots, bamboo shoots, water chestnuts, chicken, beef, pork, king prawn & vegetables
Seafood
£7.99
Cream Tennessee Toffee Pie
£2.99
Crab Meat & Sweetcorn Soup
Seafood
£5.49
Szechuan Hot & Sour Soup A. Pork & Shrimps
Hot
£5.49
Szechuan Hot & Sour Soup B. Egg & Tofu
Hot
£5.59
Sweetcorn Soup with Chicken
£5.49
Haagen Dazs Ice Cream Cookies & Cream
£6.45
Haagen Dazs Ice Cream Pralines & Cream
£6.45
Haagen Dazs Ice Cream Strawberry Cheesecake
£6.45
Haagen Dazs Ice Cream Vanilla
£6.45
Set Meal A for 2 Persons
Dim sum pork buns (4)
Mini spring rolls (2)
Seaweed
Chicken with mushroom
Sweet & sour prawns
Special fried rice
Prawn crackers
Chicken soft noodles
£31.99
Set Meal B for 2 Persons
Dim sum pork sui mai (4)
Duck served with spring onion
Pancakes & hoisin sauce
Sweet & sour chicken in butter
Prawn with ginger & spring onion
Fried mixed vegetables
Singapore soft noodles
Special fried rice
Prawn crackers
£36.99
Set Meal C for 3 Persons
Spring rolls (3)
Sweet & sour pork
BBQ spare ribs (6)
Mini spring rolls (2)
Chicken in black bean sauce with chilli
Szechuan prawn in garlic & chilli sauce
Special fried rice
Prawn crackers
Beef soft noodles
£42.99
Set Meal D for 4 Persons
Spring rolls (4)
Sesame prawn toasts (4)
BBQ spare ribs (4)
Crispy seaweed
Crispy duck half with pancakes & hoisin sauce
Sweet & sour prawns in butter
Lemon chicken
Beef in black bean sauce
Special soft noodles
Pak choy in oyster sauce
£56.99
Vegetarian Set Meal for 1
Crispy seaweeds
Vegetarian spring rolls (2)
Pak choy in garlic sauce
Curry bean curd
Braised mild mushroom with bamboo shoots
Steamed rice
Crispy noodles with vegetables
£19.99
Sweet & Sour Mixed Vegetables
£6.99
Spicy Bean Curd with Szechuan Style
£6.99
Bean Curd with Green Pepper in Black Bean Sauce
Hot
£6.99
Braised Broccoli with Tofu & Ginger
£6.99
Broccoli with Garlic Sauce
£6.99
Broccoli with Oyster Sauce
£6.99
Chinese Green Pak Choy in Oyster Sauce
£6.99
Crispy Aromatic Duck A. Quarter
Served with spring onion, cucumber, pancakes & hoisin sauce
£9.99
Crispy Aromatic Duck B. Half
Served with spring onion, cucumber, pancakes & hoisin sauce
£18.49
Crispy Aromatic Duck C. Whole
Served with spring onion, cucumber, pancakes & hoisin sauce
£29.99
Roast Duck with A. Pineapple
£7.99
Roast Duck with B. Mixed Vegetable
£7.99
Roast Duck with C. Mushroom
£7.99
Roast Duck with D. Cashew Nuts
£7.99
Roast Duck with E. Black Pepper Sauce (Hot)
£7.99
Roast Duck with F. Green Pepper & Black Bean Sauce (Hot)
£7.99
Kung Po Hot Chilli Chicken in Butter
Hot
£7.99
Fried Chicken in Chilli Sauce
£7.99
Chicken with A. Ginger & Spring Onion
£7.99
Chicken with B. Wild Mushroom & Bamboo Shoots
£7.99
Chicken with Cashew Nuts & Yellow Bean Sauce
Nuts
£7.99
Chicken with Chinese Mushroom
£7.99
Chicken with Garlic Sauce
£7.99
Chicken with Green Pepper & Black Bean Sauce
Hot
£7.99
Chicken with Mixed Vegetables
£7.99
Chicken with Sauce A. Lemon
£7.99
Chicken with Sauce B. Orange
£7.99
Chicken with Sauce C. Tomato
£7.99
Chicken with Sauce D. Mushroom
£7.99
Sweet & Sour Chicken Balls
Sauce separate
£7.99
Sweet & Sour Chicken in Butter Hong Kong Style
£7.99
Szechuan Chicken in Garlic Chilli Sauce
Hot
£7.99
Beef Chop Suey
Bean shoots
£7.99
Beef Fillet with A. Cantonese Style
Served with Cantonese sauce
£7.99
Beef Fillet with B. Ginger & Spring Onion
Served with Cantonese sauce
£7.99
Beef with A. Ginger & Spring Onion (Hot)
£7.99
Beef with B. Black Pepper Sauce
£7.99
Beef with Cashew Nuts
Nuts
£7.99
Beef with Chinese Mushroom
£7.99
Beef with Green Pepper in Black Bean Sauce
Hot
£7.99
Crispy Shredded Chilli Beef with Carrots
£7.99
Roast Pork with Oyster Sauce
£7.99
Roast Pork with Szechuan Sauce
£7.99
Double Pork in Spicy Sauce
£7.99
Sweet & Sour Pork in Balls
£7.99
Sweet & Sour Pork in Butter
Hong Kong style
£7.99
Aromatic Crispy Lamb
Served with pancakes, spring onion, cucumber & hoisin sauce
£8.99
Lamb with Chilli & Black Bean Sauce
Hot
£7.99
Lamb with Ginger & Spring Onion
£7.99
Lamb with Green Pepper in Black Bean Sauce
Hot
£7.99
Crispy Noodles A. King Prawns
£7.99
Crispy Noodles B. Chicken
£7.99
Crispy Noodles D. Roast Duck
£7.99
Crispy Noodles E. Singapore
£7.99
Crispy Noodles F. Vegetables
£7.99
Special with Soft Noodles
Comes with chicken, pork and shrimp
£7.99
Special Crispy Noodles
Comes with beef, chicken and king prawns
£7.99
Soft Noodles with A. King Prawns (Seafood)
£7.99
Soft Noodles with B. Chicken
£7.99
Soft Noodles with C. Beef
£7.99
Soft Noodles with D. Roast Duck
£7.99
Soft Noodles with E. Singapore
£7.99
Soft Noodles with F. Vegetables
£7.99
Soft Noodles with Bean Sprouts
£5.49
Tom Yum Gai
Hot & sour chicken soup with mushrooms, lemongrass, lime leaves, chilli & tomatoes
Hot
£5.49
Tom Yum Kung
The most popular hot & sour prawn soup with mushrooms, lemongrass, lime leaves, chilli & tomatoes
Hot
Seafood
£5.49
Thai Green Curry A. Chicken
With Thai aubergine, kaffir lime leaves, green chilli, sweet Thai basil, bamboo shoots & coconut milk
£7.99
Thai Green Curry B. Beef
With Thai aubergine, kaffir lime leaves, green chilli, sweet Thai basil, bamboo shoots & coconut milk
£7.99
Thai Green Curry C. King Prawn (Seafood)
With Thai aubergine, kaffir lime leaves, green chilli, sweet Thai basil, bamboo shoots & coconut milk
£7.99
Thai Green Curry D. Vegetable
With Thai aubergine, kaffir lime leaves, green chilli, sweet Thai basil, bamboo shoots & coconut milk
£7.99
Thai Red Curry A. Chicken
With Thai aubergine, kaffir lime leaves, green chilli, sweet Thai basil, bamboo shoots & coconut milk
£7.99
Thai Red Curry B. Beef
With Thai aubergine, kaffir lime leaves, green chilli, sweet Thai basil, bamboo shoots & coconut milk
£7.99
Thai Red Curry C. King Prawn (Seafood)
With Thai aubergine, kaffir lime leaves, green chilli, sweet Thai basil, bamboo shoots & coconut milk
£7.99
Thai Red Curry D. Vegetable
With Thai aubergine, kaffir lime leaves, green chilli, sweet Thai basil, bamboo shoots & coconut milk
£7.99
Thai Style Deep Fried Chicken
With sweet chilli sauce in butter
£7.99
Chicken Pad Prik
Stir fried chicken with chilli & sweet basil
£7.99
Beef Pad Prik
Stir fried beef with chilli & sweet basil
£7.99
Pork Pad Prik
Stir fried pork with chilli & sweet basil
£7.99
Pad Thai A. Chicken
With rice noodles, carrot, egg, spring onion, bean sprouts, shrimp paste & sweet pad Thai sauce, topped with crushed peanut
Nuts
£7.99
Pad Thai B. Beef
With rice noodles, carrot, egg, spring onion, bean sprouts, shrimp paste & sweet pad Thai sauce, topped with crushed peanut
Nuts
£7.99
Pad Thai C. King Prawn (Seafood)
With rice noodles, carrot, egg, spring onion, bean sprouts, shrimp paste & sweet pad Thai sauce, topped with crushed peanut
Nuts
£7.99
Pad Thai D. Vegetable
With rice noodles, carrot, egg, spring onion, bean sprouts, shrimp paste & sweet pad Thai sauce, topped with crushed peanut
Nuts
£7.99
King Prawn Pineapple Fried Rice
Wok fried rice with king prawns, egg, pineapple, onion, tomato, cashew nuts, spring onions & carrot
Nuts
Seafood
£7.49
King Prawn Fried Rice
Seafood
£6.49
Shrimp Fried Rice
Seafood
£6.49
Beef & Chicken Fried Rice
£6.49
Vegetable Singapore Fried Rice
£6.49
Special Fried Rice A. BBQ Pork
£6.99
Special Fried Rice B. Beef
£6.99
Special Fried Rice C. Pork
£6.99
Special Fried Rice D. Vegetables
£6.99
Special Foo Yung
Roast pork, chicken & shrimp on spring onions & carrots
£7.99
Foo Yung C. King Prawns (Seafood)
£7.99
Foo Yung D. Shrimp (Seafood)
£7.99
Steamed Fresh Dim Sum (4) A. Sui Mai
£6.99
Steamed Fresh Dim Sum (4) B. Prawn Dumplings
£6.99
Steamed Fresh Dim Sum (4) C. Pork Buns
£6.99
Steamed Fresh Dim Sum (4) D. Vegetarian & Dumplings
£6.99
Sweet & Sour Prawn Balls
Sauce separate
Seafood
£7.99
Sweet & Sour Prawns
Hong Kong style
Seafood
£7.99
Sweet & Sour with Mong Fish
Served with pineapple, onions & green pepper
Seafood
£7.99
Szechuan King Prawn with Garlic Chilli Sauce
Seafood
Hot
£7.99
Szechuan Squid in Garlic Chilli Sauce
Seafood
£7.99
Prawn Ball with Honey Sauce
Served with green pepper & onion
Seafood
£7.99
Mong Fish A. Black Bean Sauce
Fish in batter
Seafood
Hot
£7.99
Mong Fish B. Ginger & Spring Onion
Fish in batter
Seafood
Hot
£7.99
Mong Fish C. Salt & Pepper
Fish in batter
Seafood
Hot
£7.99
Fried Squid with Chilli & Black Bean Sauce
Seafood
Hot
£7.99
Fried Squid with Salt, Ginger & Spring Onion
Seafood
£7.99
Mixed Seafood with Ginger & Spring Onion
Seafood
£7.99
Mixed Seafood with Green Pepper in Black Bean
Sauce
Seafood
£7.99
King Prawn with Chilli & Black Bean Sauce
Seafood
Hot
£7.99
King Prawn with Chinese Mushroom & Bamboo Shoots
Seafood
£7.99
King Prawn with Ginger & Spring Onion
Seafood
Hot
£7.99
King Prawn with Green Pepper in Black Bean Sauce
Seafood
Hot
£7.99
King Prawn with Mixed Vegetables
Seafood
£7.99
King Prawn with Oyster Sauce
Seafood
£7.99
King Prawn with Pineapple
Seafood
£7.99
King Prawn with Salt & Chilli
Seafood
£7.99
King Prawn with Satay Sauce
Seafood
£7.99
King Prawn Spring Rolls (3)
Served with sweet chilli sauce
Seafood
£4.99
Deep Fried Smoked Chicken Shreds
Hot
£6.49
Hot & Spicy Wings (8)
Hot
£4.49
Japanese Tempura Prawns (4)
Served with tempura sauce
Seafood
£6.49
Pan Fried Peking Dumplings (6)
£6.49
Salt, Prawns & Squid
Hot
Seafood
£6.49
Satay Beef on Skewers (4)
Served with peanut sauce
£5.99
Satay Chicken on Skewers (4)
Served with peanut sauce
£5.99
Crispy Duck Spring Rolls (3)
Served with hoisin sauce
£4.99
China Platter
2 Spring rolls, prawn toast, 1 portion spare ribs, 1 chicken satay & seaweed
Served with sweet chilli sauce
Nuts
£7.49
Vegetarian Mini Spring Rolls (6pcs)
Served with sweet chilli sauce
£3.49
Spring Rolls (2)
Served with sweet chilli sauce
£3.49
Spare Ribs C. Salt & Pepper (Hot)
£6.49
Egg Fried Rice Lunch Time Special
Any beef or chicken dish & can of soft drink
£9.49
Plain Boiled Rice Lunch Time Special
Any beef or chicken dish & can of soft drink
£9.49
Plain Noodle Dish Lunch Time Special
Any beef or chicken dish & can of soft drink
£9.99
Malaysian Curry with Coconut Milk A. Chicken
£7.99
Malaysian Curry with Coconut Milk B. Beef
£7.99
Malaysian Curry with Coconut Milk C. Prawns (Seafood)
£7.99
Chinese Curry D. Prawns (Seafood)
£7.99
Contact Us
Find Us
177 Uxbridge Road, Harrow, W139AA
We deliver to
TW8, UB6, W13, W3, W4, W5, W7